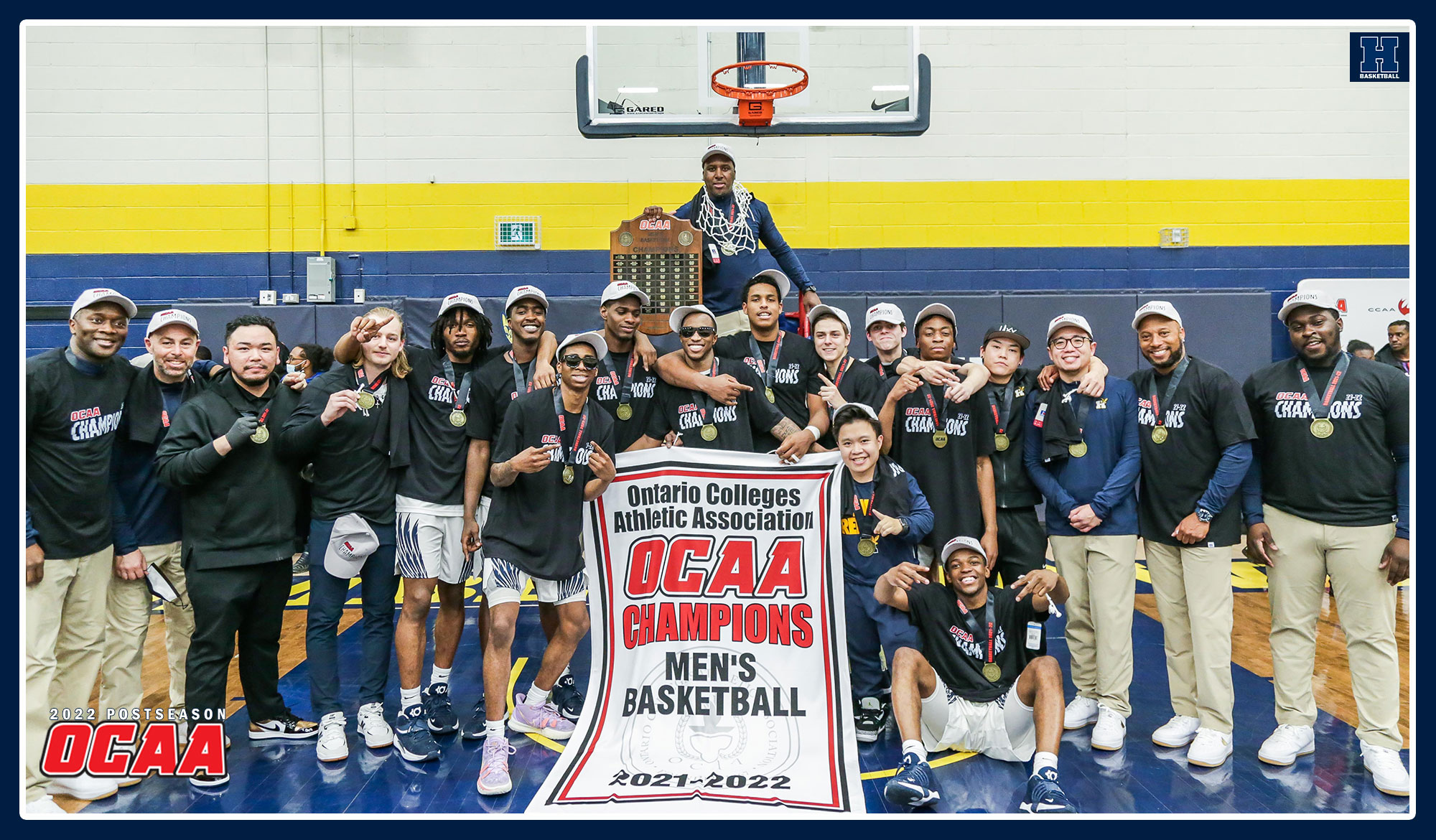 OCAA title for No. 3 Men's Basketball on home court
ETOBICOKE – The fourth time was the charm for No. 3 men's basketball, as the Hawks claimed the OCAA provincial title Thursday evening with a dominating victory over No. 15 St. Clair, 87-70. After three straight provincial silver medals, Humber captured the program's 15th gold medal and the first since winning at home in 2016.
It was Kevin Otoo who once again finished with the game-high, this time recording 34 points and eight rebounds. Rookie Frank Mitchell recorded another double-double, finishing with 21 points and 14 boards, while player of the year DeQuon Cascart rounded out Humber's double-digit scorers with 13 points of his own.
In front of the large, raucous home crowd, the top two programs all season battled early on in a game that saw nine ties and seven lead changes. Humber was able to jump out to an early lead after 10 minutes thanks to 14 points from Otoo in the opening frame.
With a seven-point lead after 20 minutes, the Hawks began to feed off the crowd, forcing the Saints into turnovers and using the fastbreak to extend the lead. Rahsaan Chambers and Frank Mitchell both threw down monstrous dunks in consecutive possessions, as the North Campus Gym erupted into a frenzy.
With time running out, the Hawks were able to hold off any attempt at a comeback by St. Clair, winning the title, 87-70.
Kevin Otoo was named the championship MVP, while DeQuon Cascart and Frank Mitchell were named to the all-tournament team.
Humber Highlights
Coach Miles is the fourth Humber coach to win an OCAA title in his first season.
After his all-star snub, Otoo led the team in scoring in every postseason game, averaging 29 points per game.
Humber improves to 27-1 all-time at home in the OCAA postseason.
What's Next?
No. 3 Humber will now get ready for the 2022 CCAA national championship tournament from Mar. 25-27. Humber will open the quarter-final round on Mar. 25 at 6 p.m. at the North Campus Gym and the game will be streamed live on the Hawks Sports Network.